"We chose AMCO due to its conveniant location, state-of-the-art IT systems and in-house Customs clearance expertise."
Tom – Indigo Footwear.
WHAT IS A BONDED WAREHOUSE?
A UK Bonded Warehouse is a secure warehousing facility that meets all HMRC's customs warehousing regulations and is approved to store goods under bond on behalf of an Importer. Meaning, companies that import goods into the UK from abroad can store them without paying Customs Duty. Duty is only due when those goods leave the warehouse for UK circulation, or when exported to another Country from the UK and released into circulation there.
WHAT DOES 'BONDED WAREHOUSE' MEAN?
The term 'Bonded Warehouse' means, the warehouse in question is 'under bond' to the Government for payment of Customs Duties and VAT on goods stored or processed within it.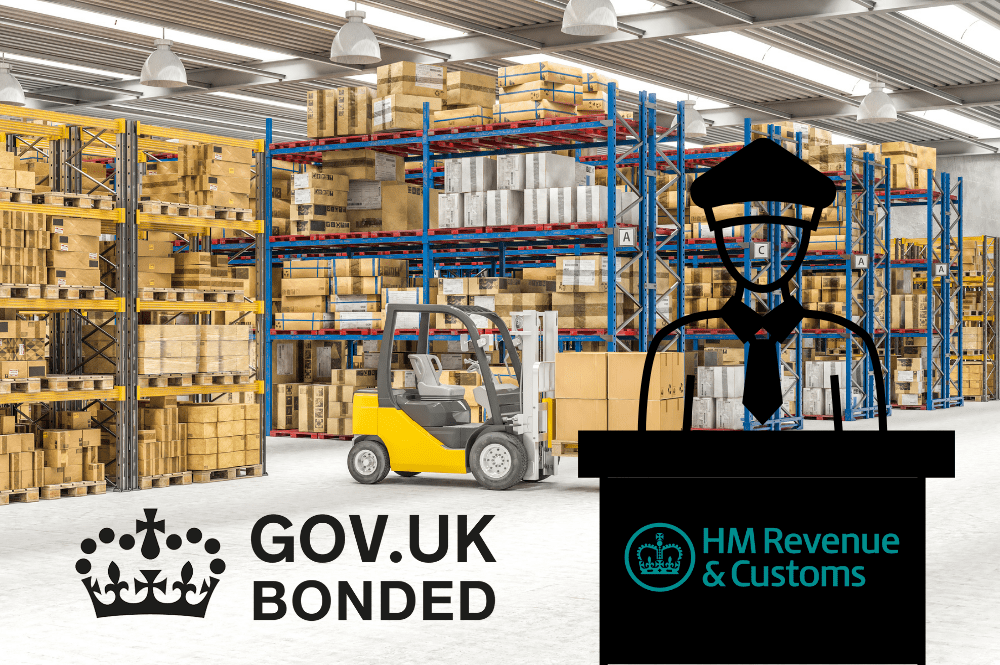 BONDED WAREHOUSING AT AMCO PARK
At AMCO, we know every business is unique. It's in our DNA to be as flexible as possible to help improve customer supply chains.
That's why AMCO's bonded warehouse has been developed to store and process all kinds of goods. The size, shape or type of material is not an issue. From TVs, sofas and garden furniture, to food, footwear and cosmetics, you name it, we store it.
In addition, storage periods are flexible too. At AMCO Park, we'll store your goods for as long as you wish, be it a month, a year, or more. You'll also be glad to hear, we're set-up to receive regular as well as ad-hoc container shipments as your business demands.
Security and surveillance are prerequisites when it comes to bonded warehousing. To ensure this, AMCO Park is monitored 24/7 with a fully fitted, high-tech security system, consisting of internal and external cameras. In addition, motion detectors, a keycard door system and an on-site security team help meet our obligations.
Whatever goods you import or export to and from the UK, they are stored securely and correctly. The systems in place, along with long-standing, fully trained staff ensure goods undergo thorough documentation and inventory checks. All goods are logged via a digital barcoding system into our Warehouse Management System (WMS) and Duty Management System (DMS).
DEFER TAX WITH BONDED WAREHOUSING
Deferring Customs Duty helps streamline your accounting processes and improve cash flow.
Furthermore, it's a good option to benefit from deferring Duty with a Duty Deferment Account (DDA). Most Importers and Exporters process their Duty deferment through a Customs Agent, like AMCO. Use AMCO's Duty Deferment Account to keep life simple.
Since 2020, Importers have also had the additional option to pay VAT using Postponed VAT Accounting (PVA).
In conclusion, to fully benefit consider using all three Customs facilitations: Bonded Warehousing, DDA and PVA.
CUSTOMS AND GOODS MOVEMENTS MADE EASY
When it comes to the storage and distribution of goods, many Bonded warehouses are linked to a Freight Forwarding company, like AMCO. Meaning, Importers do not need to source an additional transport company for the distribution of their goods – it's all under one roof.
NEED BONDED WAREHOUSING?
Improve Customs documentation efficiencies and cash flow with AMCO, your multi-service warehousing, customs and logistics provider based in the heart of England, Redditch.
With over 40 years experience importing and exporting goods worldwide, AMCO is a logistics provider you can trust. Our reputation is built on putting customer needs and their operations at the forefront of everything we do.